---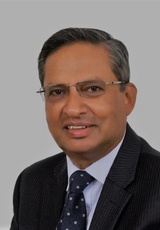 Mario Seneviratne
CENG, PENG, PRINCIPAL
Founder - Green Technologies
Committed to engineering excellence and sustainability, Mario continues to be engaged in developing low energy buildings and retrofitting of existing buildings, greatly improving its energy efficiency and operating performance.
A graduate, summa cum laude of the University of Alabama, Birmingham, USA, and a post graduate from the same institution, Mario is a Professional Engineer with registration in North America, Europe and the Middle East, and has been a Fellow of the Institution of Mechanical Engineers UK, since 1991.
Pioneering in the Middle East, Mario was responsible for delivering the First LEED Green Building in the Middle East, the Wafi City District Cooling Chiller Plant One, which was awarded of LEED Gold certification in 2006. His passion and active involvement in the green building industry has earned him the designation of a LEED Fellow in 2011. Today, there are 665 LEED-certified buildings on his profile (1 Bronze, 618 Silver, 26 Gold, and 20 Platinum).
Education
MSc Engineering - University of Alabama, Birmingham, USA
BSc Engineering - Summa Cum Laude - University of Alabama, Birmingham, USA
Program Participant - Harvard School of Public Health Executive and Continuing Professional Education Sustainability Program - 2014
Certifications
P.Eng.- Engineers and Geo Scientists of British Columbia, Canada
P.Eng. - Association of Professional Engineers, Geologists and Geophysicists of Alberta, Canada
LEED AP BD+C - USGBC
LEED Faculty Member - USGBC
Chartered Engineer - The Engineering Council, UK
Européen Engineer - Federation Européenne D'Associations Nationales D'Ingenieurs, UK
Member - Society of Engineers, UAE
Affiliations
Fellow - Institute of Mechanical Engineers, UK
Fellow - LEED USGBC
Life Member - American Society of Heating, Refrigeration and Air Conditioning Engineers, USA
Member Tau Beta Pi - The Engineering Honor Society, USA
Member - Institute of Electrical and Electronics Engineers Inc., USA
Board Member - Advisory Board Department of Civil Engineering, American University in Dubai