---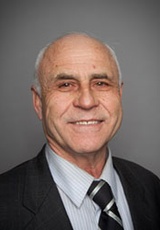 Octavian Dragos
PE, PRINCIPAL
Octavian Dragos' engineering career has been dedicated to the design of a full array of electrical systems with an emphasis on the healthcare facility sector. He has extensive experience in the design of electrical distribution systems (high and low voltage), emergency power, UPS, co-generation, lighting, life safety systems, isolations power, paging, intercom, MATV, nurse call and code blue systems and the coordination and integration of these critical power and communications systems. Mr. Dragos has in-depth experience in managing large projects with up to $200 million in construction cost, and provides the same careful emphasis to project management as engineering design. He is a long-time member of the State Of California Building Standards Commission's Health Code Advisory Committee.
Education
BS, Electrical Engineering 1965; Polytechnic Institute, Romania
Certifications
Registered Electrical Engineer (California, Oregon, Hawaii, Colorado, Arizona, Nevada, and Washington)
Affiliations
IEEE - The Institute of Electrical and Electronics Engineers, Inc.